Business Lending Requirements
How to Qualify for a Business Loan
Gain insight into the documents required for a business loan, qualifying (and disqualifying) factors, and even what to do if you're denied.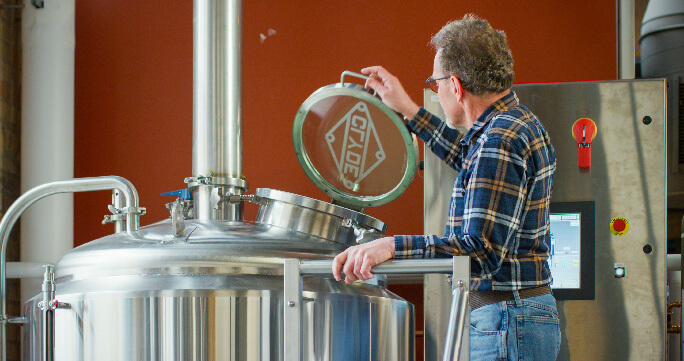 Applying for a business loan may seem like a daunting task, especially if you're not familiar with the process. Knowing what documents lenders will need and the determining factors ahead of time will make for a much smoother, and less stressful, experience. This module will cover the most common lending requirements to help you understand how to qualify for a business loan.
Business Plan
Although it may not be required (depending on the lender and type of loan), the creation of a business plan can be extremely helpful in the loan process. Since business loans typically involve more risk to the lender, the goal of a business plan is to showcase your business' credibility and illustrate its financial soundness. A clear business plan should cover your target market, competitive analysis, business structure, marketing strategy, and financial projections.
Learn more about writing a business plan here.
Required Documents
Next, gather the following commonly required documents:
Tax returns for the past three years (business and personal) – Most lenders require both business and personal tax returns for the past three years to evaluate your ability to manage and repay a loan.
Employer Identification Number (EIN) – If you do not have an EIN, you can easily obtain one from the IRS.gov website. An EIN is obtained when a business is no longer a sole proprietor. In addition, you will be asked to provide a copy of your organized documents. An example of this would be your Articles of Association/Incorporation.
Proof of collateral – The property, equipment, or asset must be free and clear of any liens. Proof can come in the form of a title. Proof could also be a UCC search which would show if there were any current liens against the business.
Balance sheets and income statement – Be ready to provide your business' balance sheet along with a year-to-date income statement, also known as a profit and loss statement (P&L). A lender may ask for your business' bank statements as well.
Personal financial statements – Lenders may also require you to provide personal financial details such as income (outside the business), assets and investments, and debt (credit cards, loans, etc.).
Copy of your purchase agreement or commercial lease – Lenders may ask for this. The difference between a commercial lease and a purchase agreement has a lot to do with the verbiage used – renting/leasing vs buying. Both a commercial lease and a purchase agreement are contracts between two parties.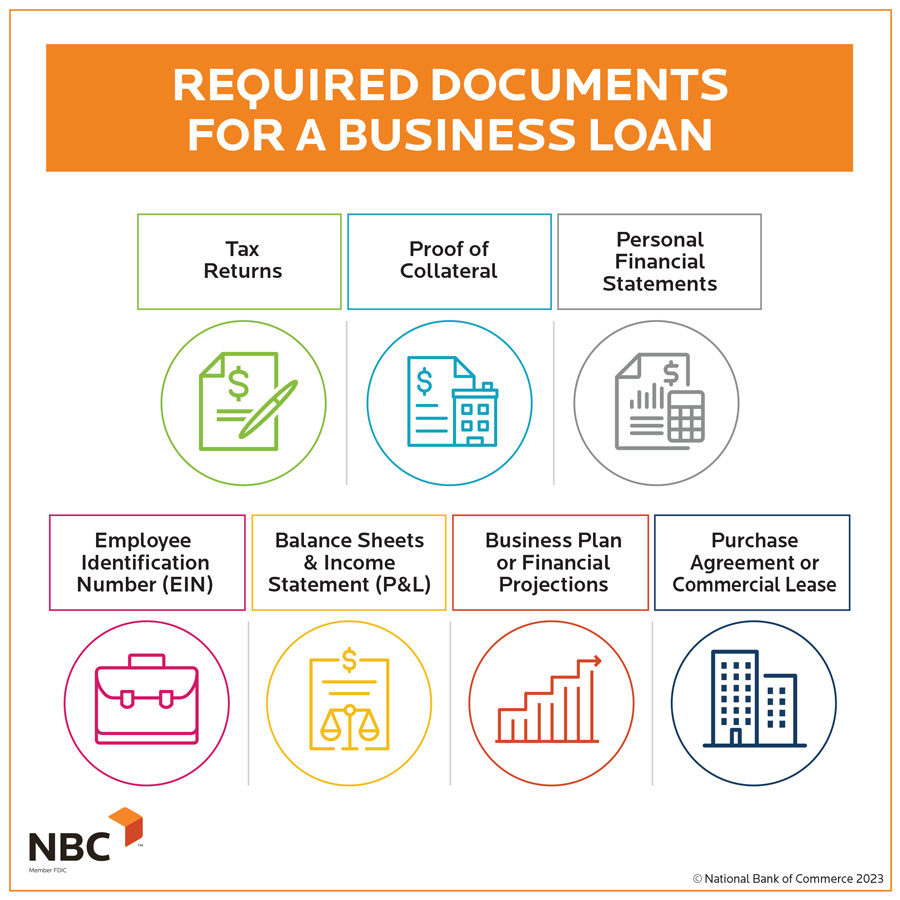 For startups or businesses with less than 3 years of documentation, you will likely be asked to provide two to three years of business projections, including both income and expenses. In addition to projections, you will be asked to provide your personal tax returns and financial statements, your EIN, and Articles of Association/Incorporation. If your business has a lease, a lender will likely ask for the lease agreement as well.
Factors for Qualifying
Once you have a solid business plan and the required documents, most underwriters will use these five key points: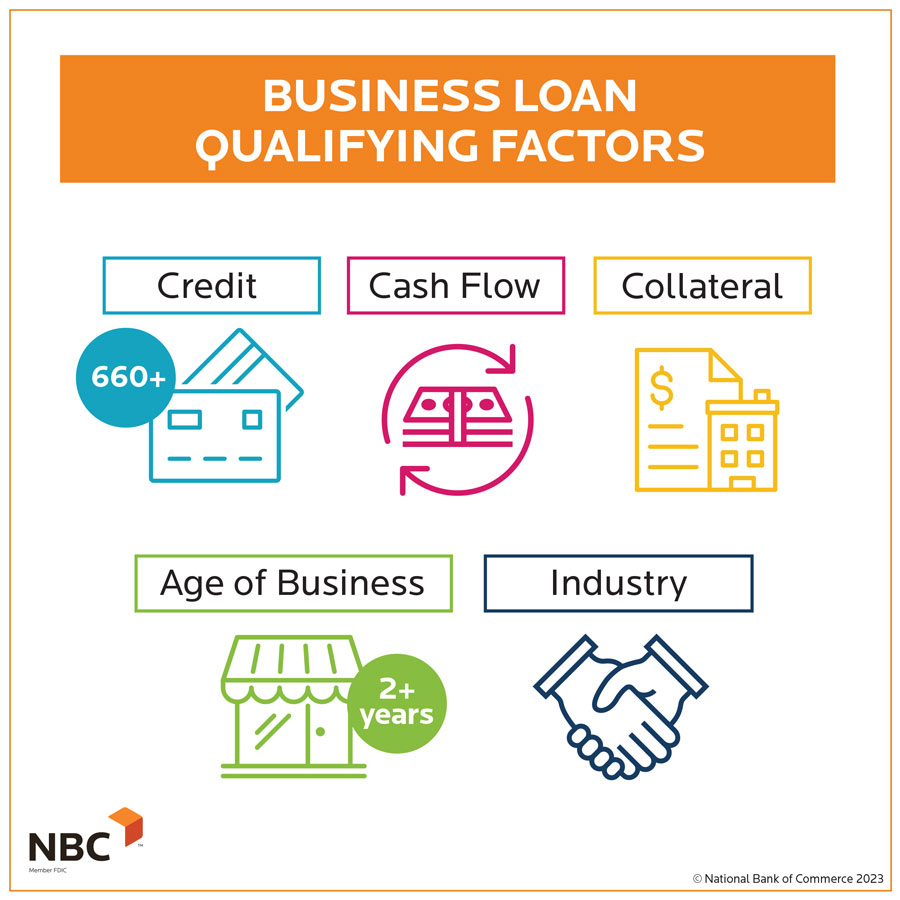 Credit
Your personal credit score is an important factor when financial institutions are considering your loan application. Most lenders require borrowers to have a credit score of 660 or higher. However, a lower credit score won't necessarily disqualify you. Each institution has its own criteria and will generally look at each of these factors as a whole when considering your application.
Having a good personal credit score demonstrates that you are responsible and more likely capable of managing a business successfully, thus lessening the risk to the lender—and, most often, lowering your interest rate.
Income and Cash Flow
Generally, most banks will consider household income, business revenue, cash flow, outstanding debt, unused credit lines, and the amount of money the owner has personally invested into the business.
More importantly, lenders will calculate your Debt Service Coverage Ratio (DSCR). DSCR is a formula used to measure a business's ability to repay its debt. This is the most common factor banks will look at when determining the strength of a business during the underwriting process for a loan.
The basic calculation of this ratio is:
(Net Profit + Loan Interest + Depreciation + Amortization)
÷
Monthly Debt Payments
A DSCR ratio of 1.25x or higher is ideal, with a lower ratio being less favorable.
Banks will use historical year-end and year-to-date data from taxes, accountant statements, and internal financial statements to determine this. For further clarification, internal financial statements are just that, internal. They are prepared by the company and won't have depreciation included. Accountant statements are more official or final. Projections are also analyzed to measure repayment of future obligations.
Age of Business
New businesses may have a harder time gaining funding than those that have been established for 2 or more years. Established businesses can show how well management has been tested and if they have the necessary experience and depth to continue operations.
If you are a new business, you still have options! If you couldn't get approved for a standard term loan or line of credit, there are always options through the SBA. Refer to Types of Business Loans in this guide for more info on SBA loans. Many cities have local organizations that will help new businesses get started as well. Locally, we have the Entrepreneur Fund, which is a great option.
Collateral
As explained in Module 3, Components of a Business Loan, you're likely going to need to put up some sort of collateral.
For larger loan amounts, collateral of higher value will almost always be required.
However, every lender sets its own policies for what's required to secure the loan. You would need to pledge collateral that has a higher value than the loan amount. This would be done because typically collateral isn't worth as much to the lender as it is to the borrower. The value of collateral to the borrower is always more than what it is for the bank.
Industry
Depending on your type of business, the lender will gauge its risk based on how necessary your product or service is within a specific industry.
What do lenders require?
WATCH OUR VIDEO
Ready to Get Started? NBC Can Help!
With this information and a little preparation, we hope to give you a smooth lending process. At NBC, we want to help you make more possible. Whether it's a new clothing boutique or an expanding restaurant, we're eager to help companies both start and grow. We will be there from the start through the finish line, assisting in the completion of your project.
If You Are Denied
The reality, however, is that not everyone will qualify. If you do, celebrate, and get to work! If you don't, ask your lender why you were denied so you have a clear idea of how to change whatever went amiss. Together, we can modify or strengthen your application and try again—or consider other options.
Conclusion
How are you feeling: overwhelmed and exhausted, or informed and prepared? If it's more of the first one, take a few minutes to review what you've learned in Modules #1-4. If, however, it's the latter, then it's time to complete your education in the world of business loans and get ready to celebrate. It's time to wrap things up with Module #5 – You're Approved! Now What?
Other Articles in this Guide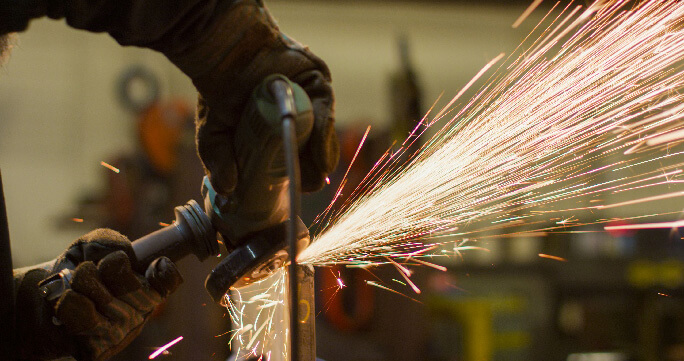 How Business Loans Work
Learn what business loans are, how to apply for them, how a lender determines how much you can borrow, and how long the process may take.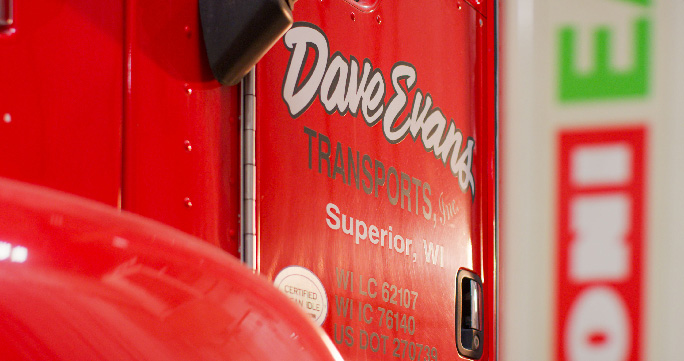 Types of Business Loans
Learn the differences between term loans, lines of credit and real estate loans, as well as important insights into the other forms of lending available to your business.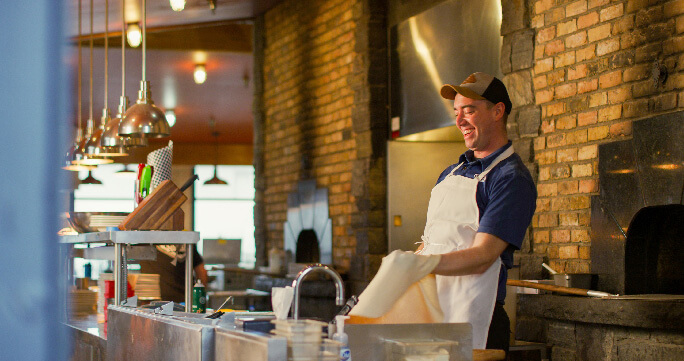 Components of a Business Loan
Discover the five major components of a business loan, what each entails, and what you need to consider when applying.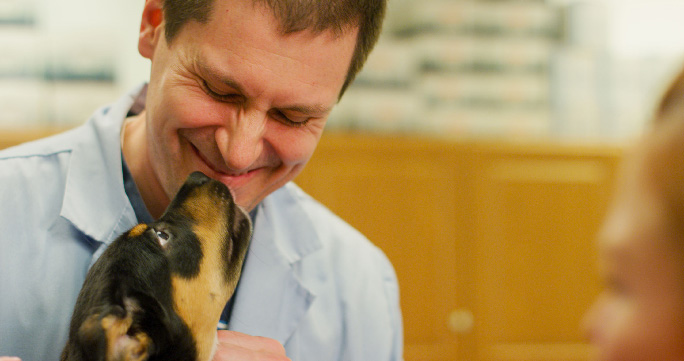 You're Approved, Now What?
Discover what happens after you're approved for a business loan, what steps you'll need to take to close, and how funding, payments and annual loan maintenance works.