Lobbies Restricted to Appointment Only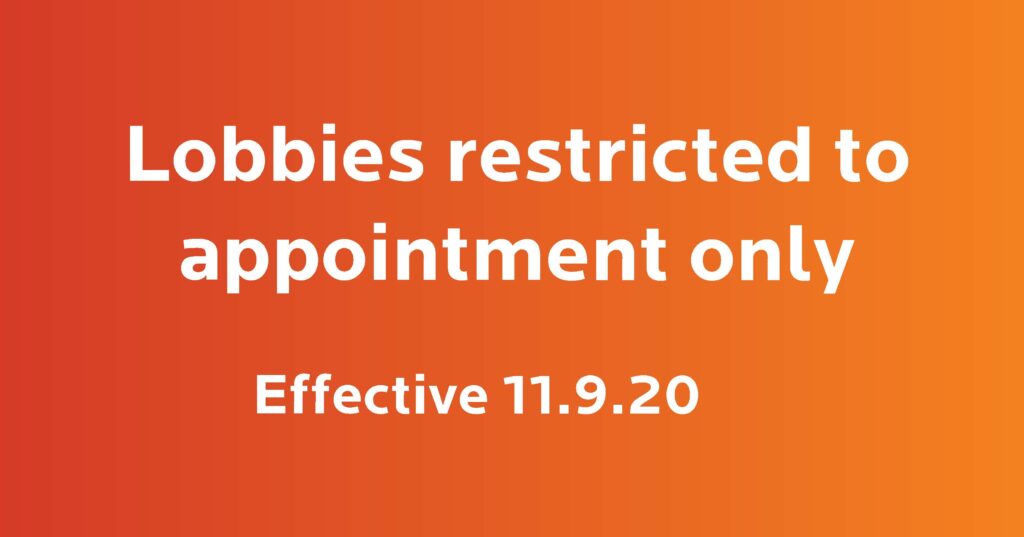 We are taking steps to make sure we can continue to serve you while maintaining the health and safety of our associates as our nation continues to deal with the COVID-19 pandemic.
Given the evolving concerns around COVID-19 and to help support the direction of community health management efforts, we are restricting our lobbies to appointment only, effective November 9, 2020 and until further notice. Along with these changes, our West Duluth branch will be temporarily closed. Our drive thru and ATMs will remain open and fully functional. We will continue to assess the situation based on daily public health conditions and recommendations.
We are here to help.
Please utilize the following convenient banking options to connect with us.
*We are asking customers that would like to schedule an appointment to identify if anyone in the home is experiencing flu-like symptoms or may have developed medical issues related to the virus. In these cases, we will take steps to handle the situation as best we can. In some instances, we may need to reschedule the appointment for a later time.
If you haven't already done so, we encourage you to set up your online account access and/or download our mobile app to help you:
– manage accounts/monitor transaction activity
– transfer money
– deposit checks
– pay a bill
– connect with us
…and much more

We have enacted this plan because our associates' and customers' safety is top of mind. We remain committed to controlling what we can control to best service our customers and communities in this time. We apologize for any inconvenience and we will work diligently to return our lobbies to regular business hours as soon as possible.

In closing, we understand these are very trying times for our entire region and country. Know that our associates who live and work in your communities stand with you, and are committed to keeping your banking needs a priority.

Please stay safe and healthy.